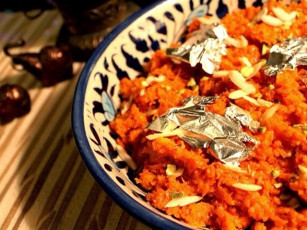 Nawabi Sohan Halwa is the traditional sweetmeat of the areas that were part of the former princely state of Bahawalpur.when you visit to pakistan,do visit once princely state of bahawalpur and taste the Nawabi sohan halwa a delicious halwa filled with all the nutrients needed for energy.
It is a delicacy famous from the times of the British Raj.
Reportedly, local people and visitors in the area like the halwa so much that they eat as well as send it to their relatives and friends. It is a gift of the cultural capital of South Punjab. Nawabi Sohan Halwa is served hot as well as cold.
It is prepared with milk, sugar and wheat starch and is cooked for a few hours after which it starts taking its typical look.
Later, desi ghee and dry fruits including pistachio, almonds, cashew and walnut are added to make the delicacy.
It is prepared in many varieties that are dry, soft and 'mukhaddy'.
A sugar-free Nawabi Sohan Halwa is also prepared for diabetic persons.
The lovers of the Nawabi Sohan Halwa eat it throughout the year but it is in the cold weather when it is considered most suitable for use.
The halwa has fats as well as the nutrition filled dry fruits and sugar in it. It provides heat and energy during winter days.
Haji Rasheed Sohan Halwa is one of the oldest sohan halwa shops.
It is situated in the downtown Machhlee Bazaar area and has been operating for the last five decades.
It was set up by the grandfather of Haji Rasheed and now the third generation of the family is running the business.
Haji Rasheed told that halwa from the shop is not only sent across Pakistan but also as gift abroad especially during the winters.
Variations of the halwa are priced between Rs800 to Rs1,200 per kilogramme.
Amjad Awan, a resident of Satellite Town, stated that he was a regular consumer of the Nawabi Sohan Halwa.
He further said that it is a very tasty delicacy of the city. "We serve our visitors and guests with it, who, after returning to their hometowns, request us to send some more halwa. They often give us feedback and remark that they miss it and want more but it is not available, unfortunately, in their areas."
Syed Imran Ali Rizvi from Bund Road, Bahawalpur stated that he enjoys hot halwa along with hot milk. He further said that his relatives who live abroad ask him to send the halwa through courier service.
"People of the area as well as visitors and overseas Pakistanis familiar with the famous halwa crave the delicacy and always ask for more of it."